(Translated by Alec McLure from Información y futurología del acuerdo Intel - OLPC, published by Pablo Flores on 7/14/2007)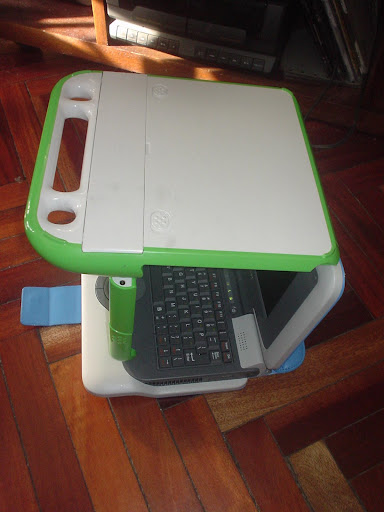 The announcement of the agreement reached by OLPC and Intel gives rise to much speculation as to how the OLPC project will continue and how it will impact Uruguay and other countries joining this initiative.

Let's begin by analyzing just what is in this agreement. There's not much official information, but what is clear is that Intel will join OLPC's board of directors. (The roster will now consist of representatives from AMD, Brightstart, Chi Lin, eBay, Google, Intel, Marvell, News Corporation, Nortel Networks, Quanta Computer, Red Hat, and SES Astra.)

Like all OLPC corporate associates, Intel will bring some capital when they join the project – this hasn't yet been detailed in public. This is what's known up to now.

Words from some of the lead players:


"Intel joins the OLPC board as a world leader in technology

, helping reach the world's children. Collaboration with Intel means that the maximum number of laptops will reach children,"

said Nicholas Negroponte, founder of One Laptop per Child.

"This agreement will make computers get to children

faster

,"

said David Cavallo, Latin America Director of OLPC

.
The leads seem happy. What does this agreement imply? We still can't be clear on it. Ideally both parties would synergistically achieve better-quality equipment at a lower cost. This can take time, which doesn't mean that they would be able to reach agreements on time for immediate needs, such as
Uruguay's Call for Bids
.
As an example, this call for bids asks the bidder to be established in Uruguay, which would be a challenge for OLPC. In this sense, a joint proposal would make it easier to meet this requirement.
With what laptop? Surely it will be some version of the XO, since it already has better specs to meet the project's requirements, such as the wireless mesh, the camera, and the tablet PC format. OLPC is way behind on software, though, and Intel could provide an interesting and immediate boost, integrating its
Skoool
educational systems.
And the OS? A Windows/Sugar dual boot proposal would not surprise me – this would be an interesting option from an educational standpoint.
Another theme is cost. With the elimination of competition, countries are not well protected given the lack of options and negotiation possibilities. I hope that with Intel's injection of capital and new possibilities for economy of scale, OLPC may be able to meet its initial promise to sell the laptops at $100. It would be an excellent way to demonstrate their seriousness and be a key factor in purchase decisions in many other countries.
Following are other aspects of the vision of the future in the agreement pointed out by
Luis Ramirez
in his blog:
AMD – Intel's main competitor and the ones in charge of producing the AMD chip must be quite affected by this alliance. One speculation is that XO's first generation (planned to be available in the next few months) will have AMD's processor and that maybe the second generation (planned for production in 2008 and commercialization in 2009) will have some kind of Intel chip.
Intel could stop producing the Classmate PC (currently being sold in Chile and other countries) in exchange for providing its processors to OLPC beginning in 2008. Let's also recall that OLPC recently announced plans to develop commercial products in addition to the XO laptop. This apparently fits in to not only to the projects goal of eventual self-sufficiency, but also to be able to complement it with other OLPC-style servers and equipment.