,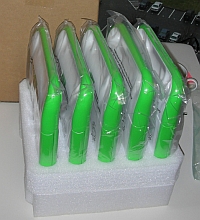 After the technical analysis period for the proposals presented in the call to bids and additional negotiation between Latu and the offering companies, the following have been adjudicated:

Laptops: XO from OLPC (represented in Uruguay by Brightstar)
School Servers: IBM servers (provided by INCO)

Connectivity: Declared as deserted

This adjudication went through a period during which the team from Positivo (the company that offered the Classmate PC) made comments on the technical evaluation (in which they came in just under 4 points lower). Latu officially responded to these comments, coming to the conclusion that they didn't apply. At the same time, Latu pointed out that in the proposal's total scoring (which included a 40 point economic component and a 60 point technical component) there was a large scoring difference in favor of Brightstar's OX offering; this offering came in at US$199 as opposed to Positivo's $243 (which was bundled within a package of service offerings.)
Some of the XO components, like the mesh network, integrated camera, and screen resolution had a strong effect in its favor. It's worth noting that all the components which the Education Commission had requested for the laptops were included in the call for bids' technical terms and in its scoring. It also appears to be a good thing that Villa Cardal's XO laptop experience can be built on.
As far as the servers go, INCO (Interamericana Computing) made a significant offer of IBM servers with 2 gigs of Ram, 2 x 120 gig hard drives, and installation service at the price of US$610. This was the winning bid.
As regards connectivity, the proposals presented were very expensive. This was most likely due to the challenging requirements for home coverage in the call for bids. Latu's technical team along with Antel, have been doing excellent work on this and have attained the experience to do it on their own if this should become necessary.
All this information will be confirmed at a press conference to be given by Latu in the next few days.
This adjudication corresponds to what was referred to as "Phase I", initially 100,000 laptops, so the possibility of strong competition for future roll-outs (as a matter of fact, a new and noisy global player has come into view:
Asus EeePC
)